Limit orders are advantageous over Market orders as they give users more control over the buying and selling prices of their trades. All cryptocurrencies listed on Coinmetro can be traded using limit orders on the Exchange Platform.
How to Place a Limit Order
Firstly, you need to head to the Coinmetro Exchange Platform.
On Desktop or Browser
On the Mobile App

1. From your Dashboard, click on the 'Exchange' tab at the top of the screen.

2. On the left-hand side of the price chart, you will find the Exchange Order Form.

1. From the Home screen, tap on 'Exchange'.

2. By scrolling down and tapping either 'Buy' or 'Sell', the Exchange Order Form will pop up on the screen.
Then, select the Exchange pair that you wish to trade by using the dropdown menu above the price chart. Then, select either 'Buy' or 'Sell' depending on the trade you wish to make. In this example, we have chosen BTC/EUR.

Make sure that the Order Type is set to Limit as shown below. Otherwise, you will be placing a Market Order. Then, enter your desired price in the 'Limit Price' box shown below. In the example here, we have set the maximum price to 19,994.2. This means that we will be buying BTC at a price of 19,994.2 or lower. The order will always be filled at a specified or better price.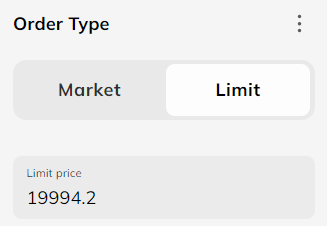 You will need to select the amount of currency you wish to trade. This can be adjusted by sliding the bar to the left or to the right, or by selecting 'Min' or 'Max'. You can also see the fee you will incur with this trade below the bar. Maker fees are 0%, whilst taker fees are 0.1%.
Finally, all that is left to do now is to place your limit order! This can be done by hitting Limit Buy or Limit Sell depending on the order type. The order will then be displayed in the order book.
Coinmetro's Demo Platform is always available if you would like to practice without risk. Please note that this article is for educational purposes only.