What is the XCM Dust Converter?
The XCM Dust Converter is a tool that enables users to convert all of their small balances, or crypto "dust" amounts, to our XCM token! It allows you to clean up your portfolio by converting any amount or all of your small balances to XCM.
Little by little, all the "dust" you convert to XCM becomes an investment in itself. The amounts might seem small with every instance, but in the long term, this will circulate more value back into your wallet.
What is "Dust"?
In the world of cryptocurrencies, the term "dust" refers to any small amount of coins or tokens that you might have left in your wallet as remains from various transactions. The amount is generally so small that it can't be traded or exchanged because it is smaller than the minimum amount of a transaction. Also, it would not be enough to even pay for any transaction fees.
How to Use the XCM Dust Converter
The XCM Dust Converter can be found in your Coinmetro Wallet underneath your Total Account Volume. Simply click on the wand icon to start converting your dust to XCM.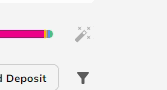 After clicking on the wand icon, you will then see a dialog box listing all the crypto assets you hold with small available balances. You can select any single or multiple assets and have the option to "select all" for ease of use. All conversions will be visible in the transaction history.
You can find more information on the XCM Dust Converter on the Coinmetro Blog here.