You can easily change the phone number you registered to your Coinmetro account by firstly heading to your Account Settings.
On Desktop
Click on either the menu icon (the colored circle with your initials in the upper right-hand corner) or the sidebar on the left-hand side of your Coinmetro Dashboard, then click on Account.

On the Coinmetro Mobile app
Click on the menu icon in the upper left-hand corner of your Dashboard.

Then, from the Profile tab, scroll down until you see your phone number. Then, click on 'Update mobile number'.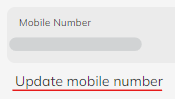 Now, enter your new phone number and click on 'Update Number' to update your phone number.

Please note that it is not possible to have multiple phone numbers on your account, and the new phone number will replace your previous one.