Coinmetro offers users multiple tools and platforms that will suit both novice traders and more chart-savvy advanced traders. So, which platforms does Coinmetro have to offer?
The Coinmetro Swap Widget
On the right-hand side of your Coinmetro Dashboard, or via the Swap page if you are using the Coinmetro mobile app, you will find an excellent tool to make quick and easy trades! With the Coinmetro Swap widget, you can swap crypto-to-crypto or fiat-to-crypto with just the click of a button! It's the easiest and quickest way to buy or sell crypto and is suitable for beginners.
Coinmetro offers a fixed rate for 30 seconds, with a swap markup of 2.00%.
The limit on the Coinmetro Swap feature is €500 (or equivalent). This is due to the Swap widget offering a guaranteed price for 30 seconds. This is not an account limit but just the limit per trade. With two different order books and a fixed price, the price can be volatile.
Combine this great tool with our newly featured Crypto Sentiment meter (just below the Swap widget) for extra confirmation, and you'll be on your way to making great trades!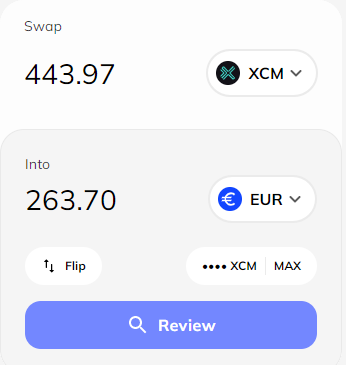 The Coinmetro Exchange Platform
If you want to make a Crypto-to-Crypto or Fiat-to-Crypto exchange, and you're more into following the markets and keeping track of the live pricing on the charts, then Coinmetro's Exchange platform will provide all the tools you need!
The Exchange Platform offers much more precise trading, placing orders at various price points to be traded in the future, and more including:
the ability to buy or sell at the best available price, same as the Dashboard Buy/Sell (market order)

price charts with built-in trading indicators

order books which display all orders for that trading pair, and show at what prices other traders are looking to buy or sell

the ability to place Limit Orders which allows you to place an order at a specific price

the ability to place Stop Orders which helps to limit losses in case the market moves against you

an easy overview of your active and historic orders.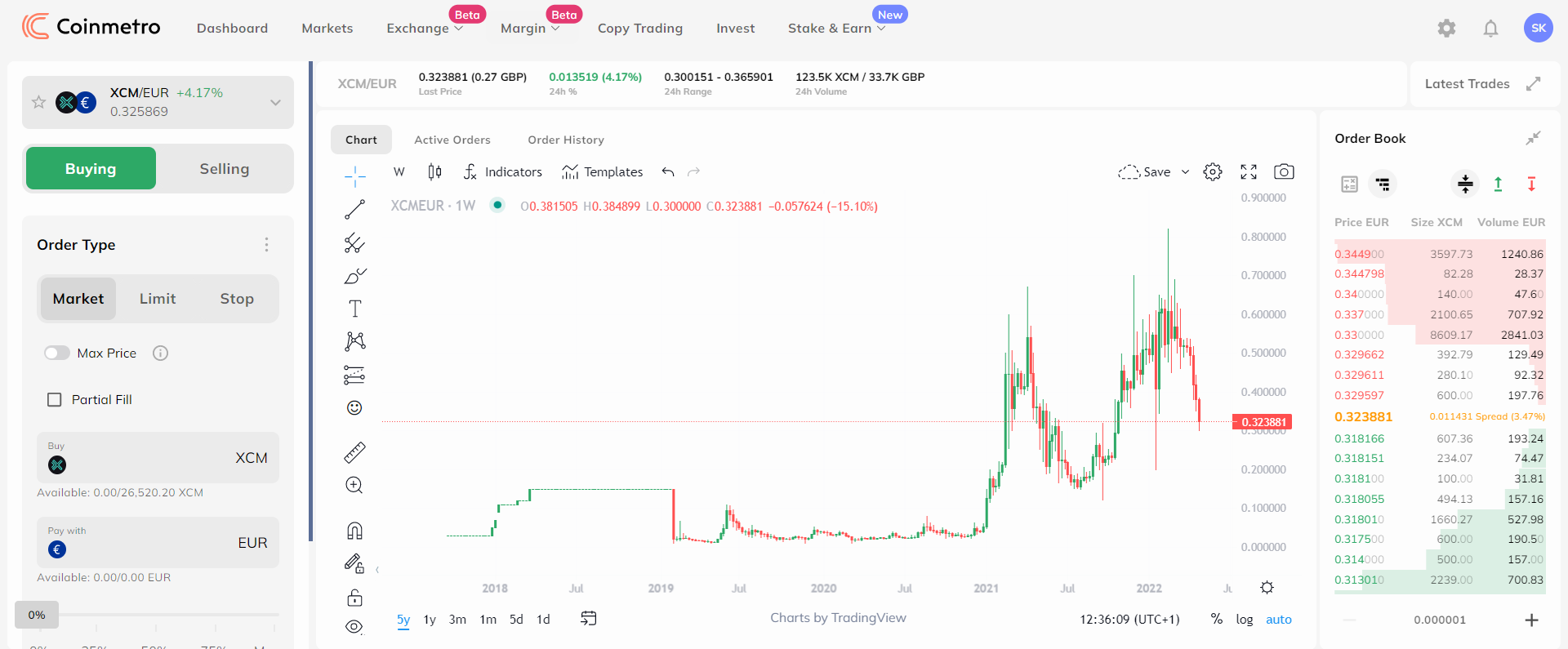 The Coinmetro Margin Trading Platform
Looking to take your trading to another level? Coinmetro's Margin Platform is perfect for you! Here, you will find a variety of tools, charts, and indicators - everything you need to be able to make better trading decisions.
Margin trading is a type of trading that allows you to trade borrowed assets/currencies. With the Coinmetro margin platform, we offer the use of leverage which allows trading larger in value than your available funds.
It also allows you to short (sell) assets you don't own, in anticipation of buying them back later at a lower price and keeping the difference as profit. If you have seen trading platforms before and traded with a leveraged account, then you're no stranger to the risk disclaimers about margin trading.
Margin trading can be risky; however, you can mitigate the risk by trading with leverage. The Coinmetro Margin platform offers you 5:1 leverage to trade with, meaning you can trade with leverage 5x your actual holdings.

The Coinmetro Copy Trading Platform (TraM)
Looking for a trading professional to do the work for you? Coinmetro's Copy Trading Platform is a product that allows users to mirror the trades made by a professional trading manager.
Here at Coinmetro, our copy trading platform is known as TraM, short for Trade Mirror. This is because the manager's trades will be mirrored onto your account, so there is nothing else for you to do but sit back and relax! Your money works for you, in return for a small management fee paid to the trading manager.

You are free to allocate or remove your funds from the TraM at any time.
The Invest Platform
Looking for something totally different and far from trading? Coinmetro is pleased to offer Europe's First Security Token Investment Platform!
With this easy-to-use securities platform, you can start investing with as little as just €10, depending on the project.
This unique investment product gives you a stake in the issuing company or the associated rights, such as rights to profits, dividends, or shares of the company revenue. It is important to check the terms and conditions for each listed project and make sure that this is the right project to start your journey as an investor.
You can find the full list of Coinmetro's listed projects on the Invest Platform here.