Coinmetro's FLUX Staking Program offers long-term sustainable, secure, and easy-to-use passive income opportunities for all users! All it takes is a minimum of 50 FLUX and a few clicks to start earning a passive income. Together with the Flux Network team, Coinmetro has built a unique platform that enables anyone to participate in FLUX Staking.
What is FLUX?
FLUX is the native cryptocurrency of the Flux Network, a decentralized computing cloud service/blockchain-as-a-service solution with a growing ecosystem around it. Together with Zelcore, Coinmetro is bringing DeFi to the masses!
Network participants, or "stakers", contribute resources to the network and in return are paid for their contribution. To participate, locking of FLUX is required. The more FLUX locked, the higher the rewards!
How to Get Started
On Desktop or Browser
On the Mobile app

From your Coinmetro Dashboard, select "Staking"
Click on "FLUX Staking"

From your Dashboard, tap on "More" in the bottom right-hand corner
Tap on "Staking", then "FLUX Staking".
With at least 50 FLUX available in your Coinmetro account, you can open a staking plan with the click of a button. Simply select 'Get Started' and start earning a passive income!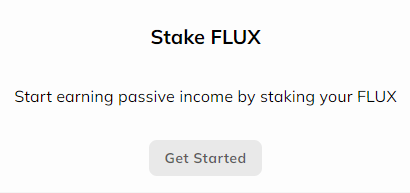 You will then need to choose how many FLUX you would like to stake, and for how long. Remember—the longer you stake, the higher the APR will be!
Once you are ready, simply press 'Confirm' to start staking your FLUX!
How much will I earn?
You can earn up to 4% APR by staking your FLUX at Coinmetro. You can find how much you will earn when allocating your FLUX to the staking plan.
You will also earn FLUX parallel-mining rewards by staking your FLUX at Coinmetro!
Please note that the APR for staking is variable. Please ensure you have thoroughly read the Flux Node Program Agreement before confirming your plan.
Claiming Your Rewards
The rewards for staking are now accumulated live, and you can now see your rewards being accumulated in real-time! By clicking 'Cash Out Now', the pending rewards are moved to your available wallet balances, with a matching entry in your transaction history.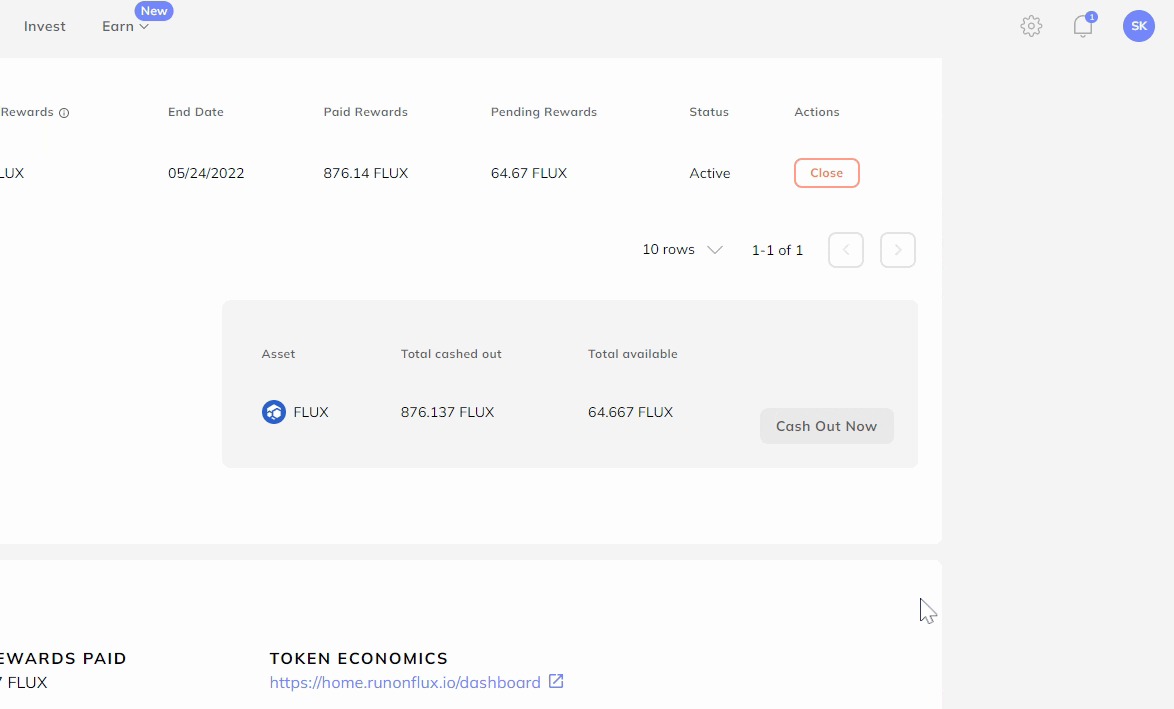 Ending a Staking Plan
You can end your staking plan by simply selecting 'Close'. Ending your staking plan early comes with a penalty. 50% of the total paid rewards for the plan will be deducted from your staked FLUX. A confirmation popup will display the penalty applied before you choose to confirm.
Important Note
Please be informed that recently, there have been some changes with the Flux Network and their native asset, FLUX.
Just like Bitcoin, FLUX goes through a halving. This is when Flux halves its block reward every 655,350 blocks. However, since one block is generated approximately every 2 minutes, the halving happens roughly every 2.5 years. The halving event has reduced the block reward from 75 to 37.5 FLUX.
As a consequence, this is having an impact on the APR of our FLUX staking plans here at Coinmetro and unfortunately means that we have had to adjust the FLUX Staking APR. Going forward, all FLUX staking plans will have an APR as follows:
1 month - 2.2%
3 months -2.8%
6 months - 3.4%
1 year - 4%.
It is important to note that the recent FLUX halving causing this change is an external event taking place with a third-party entity (the Flux Network) and it is outside of Coinmetro's scope of influence.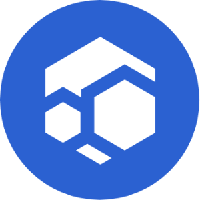 Ready to get started?