How to Change Your Password
If you would like to change your Coinmetro account password, you can do so from your account settings.
On Desktop
Click on either the menu icon (the coloured circle with your initials in the upper right-hand corner) or the sidebar on the left-hand side of your Coinmetro Dashboard, then click on 'Account'.

On the Coinmetro Mobile app
Click on the menu icon in the upper left-hand corner of your Dashboard.

From here, click on the Security tab and scroll down until you see Change Password.

Simply enter your old password, followed by your new one, and click 'Change Password'.
How to Reset Your Password
Should you have forgotten your password, or if you are experiencing issues with your login credentials, please try the password recovery tool on the Login page.

You will find it under the Email and Password fields. Please select 'Forgot password?'.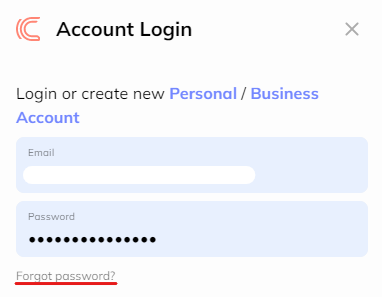 You will then be required to enter the email address associated with your Coinmetro account and complete the reCAPTCHA. Select 'Send Email', then please follow the instructions provided in the email to reset your password.
Should you have any questions, or you still experience issues with the login, please feel free to contact our 24/7 live chat support, or email us at hello@coinmetro.com.