With your Coinmetro account created and your profile verification completed, you are now ready to sell your cryptocurrency on the Coinmetro platform!
Firstly, please ensure that you have some available cryptocurrency. This can be done by depositing some crypto into your Coinmetro account.
The Coinmetro Swap Widget (suitable for beginners)
Located on your Dashboard, or on the Swap page, if you're using the Coinmetro Mobile app, the Coinmetro Swap Widget is the quickest and easiest way to sell cryptocurrency assets. Coinmetro offers a fixed rate for 30 seconds, with a swap markup of 2.00%.
The limit on the Swap Widget is €500 (or equivalent). This is due to the Swap Widget offering a guaranteed price for 30 seconds. This is not an account limit but just the limit per trade. With two different order books and a fixed price, the price can be volatile.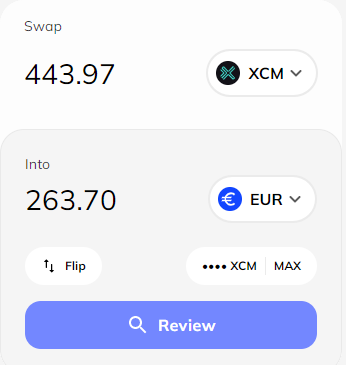 Please note that we have disabled the swap feature for certain assets due to liquidity. This is to protect you from any slippage that may happen when purchasing an asset.
The Coinmetro Exchange Platform
Coinmetro's Exchange Platform allows you to sell cryptocurrencies with more control and data available. The Exchange Platform is suitable for those who would like to have a better overview of their trading. Limit orders, charts, order books, and much more are available.
For all information on how you can get started with using the Coinmetro Exchange Platform, please visit our Help Center article here.