You can deposit EUR or GBP in seconds using the Credit or Debit Card method!
Depositing fiat by Credit or Debit Card
1. Select the fiat currency you want to deposit by clicking here:

2. Enter the amount you want to deposit.

3. Make sure the Credit Card method has been selected by clicking on "Change", and then selecting the Credit Card method.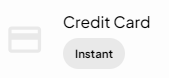 4. Click on "Add Cash" and you will then be redirected by our payment processor to complete the payment
and enter your card details. Please note that pre-paid or virtual cards are not accepted.

For additional security purposes, you may also be required to enter a One-Time Password (OTP) provided by your bank to verify the transaction. Learn more
FAQ
What are the limits?
Visa or MasterCard are accepted with a minimum deposit of 10 EUR or GBP. The maximum deposit limit per transaction is 5,000 EUR or GBP.
How long does it take?
Credit and debit card deposits are usually instant but may take a few minutes to appear on your account.
Why has my card deposit failed?
If your credit card deposit failed, please make sure that:
The card is open for internet payments

The card does not hit a spending limit and you have sufficient funds

Your bank allows crypto-related payments

The card has not expired

The transaction was not declined by your bank. Please contact your bank to clarify this.
What are the fees?
Coinmetro charges a 2.99% percentage fee for all credit and debit card deposits.
Can I use a pre-paid card?
Please note that pre-paid card deposits are currently not accepted, and your funds will be returned to you at your expense.