Firstly, you'll need to head over to your Coinmetro Dashboard. Then, click on either "Deposit" or "Add Cash" depending on which version of Coinmetro you are using:
| | |
| --- | --- |
| On Desktop or Browser | On the Mobile App |
Then from the dropdown menu, you will need to select either EUR - Euro (Credit Card), USD - US Dollar (Credit Card), or GBP - Great British Pounds (Credit Card).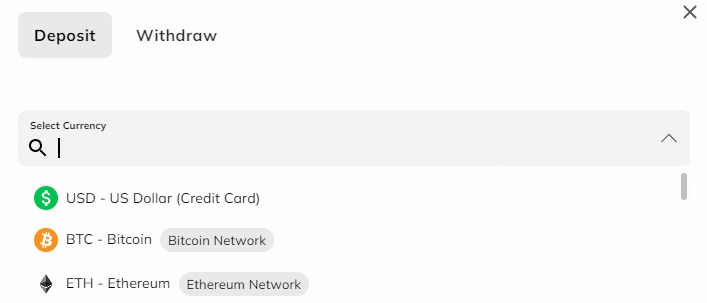 When choosing to pay by credit card, we also require you to provide your residential address verification by filling out an address form.
After you have submitted your address information, or if this has been provided already, you will then need to enter the amount you would like to deposit, then click Next. It is important to consider that fees will be deducted from this amount.

You will need to click Open Credit Card Popup where you will be prompted to enter your card details; your 16-digit card number, expiry date, & security code.

You will then be redirected to our payment processor where you may be required to verify this transaction by entering a one-time password provided by your Bank.
FAQ

What are the limits?

Visa or MasterCard are accepted with a minimum deposit of 10 EUR, GBP or USD. The maximum possible deposit amount per transaction is 5,000 EUR, GBP or USD.

How long does it take?

Credit and debit card deposits are usually instant, but may take a few minutes to appear on your account.

Why has my card deposit failed?

If your credit card deposit failed, please ensure the following:

The card is open for internet payments

The card does not hit a spending limit and you have sufficient funds

Your bank allows crypto-related payments

The card is not expired

The transaction was not declined by your bank. Please contact your bank to clarify this.

What are the fees?

Coinmetro charges a percentage fee based on your card's country of issue:

Can I use a pre-paid card?

Please note that pre-paid card deposits are not accepted and your funds will be returned to you at your expense.

Why have I been asked for additional information after depositing?

Our Financial Operations team review transactions once they arrive with us and occasionally, we may ask for additional verification information as we strive to remain compliant with banking regulations and standards. Why have I been asked to provide a card statement?