With your Coinmetro account created and your profile verification completed, you are now ready to make your first cryptocurrency purchase on the Coinmetro platform.
Fund your account
To get started, you'll need to fund your account with either fiat or cryptocurrency. We offer various deposit methods, including credit card and bank transfer options for fiat deposits. You can find detailed information on how to make a deposit in our Help Center articles.
When depositing cryptocurrency, make sure to follow the specific instructions for each currency. Some cryptocurrencies, like XRP, require additional information such as a destination tag.
Once your account is funded, you can now make your first cryptocurrency purchase on the Coinmetro platform.
The Coinmetro Swap Widget (suitable for beginners)
The Coinmetro Swap Widget, available on your Dashboard or the Coinmetro mobile app's Swap page, is the quickest and easiest way to buy cryptocurrency assets. The Swap Widget offers a fixed rate for 30 seconds, with a swap markup of 2.00%.
There is a limit of €500 (or equivalent) per trade due to the guaranteed price for 30 seconds. This limit is not an account limit but just the limit per trade. Keep in mind that with two different order books and a fixed price, the price can be volatile.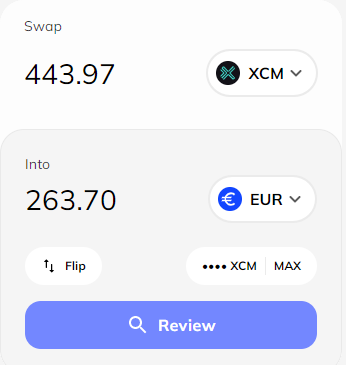 To use the Coinmetro Swap Widget, simply head to the widget on your Dashboard or the Swap page on the mobile app. Please note that the swap feature for certain assets has been disabled due to liquidity concerns. This is to protect you from potential slippage when purchasing an asset.
The Coinmetro Exchange Platform
Coinmetro's Exchange Platform offers more control and data for buying cryptocurrencies. It's ideal for those who want a better understanding of their trades and includes features such as limit orders, charts, and order books.
To learn how to get started with the Coinmetro Exchange Platform, check out our Help Center article here.