Ready to withdraw some crypto?
Firstly, you'll need to head over to your Coinmetro Dashboard. Then, click on either "Withdraw" or "Send" depending on which version of Coinmetro you are using:
| | |
| --- | --- |
| On Desktop or Browser | On the Mobile App |
| | |
Then, from the dropdown menu, click on the cryptocurrency you would like to withdraw.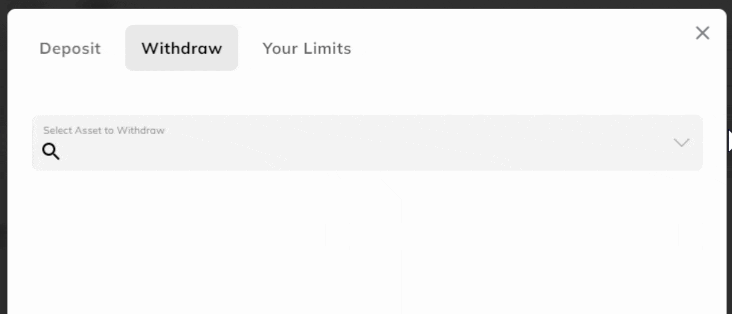 Now, you will need to copy the wallet address from the external wallet where you would like to receive your funds and paste it into the box. We advise you to double-check this to ensure there are no mistakes.

You can also optionally leave a comment to provide us with some information about your withdrawal. For example, "withdrawal to my MetaMask wallet".

Then, you'll need to enter the amount that you'd like to withdraw. You can manually type the amount you'd like to receive into the Amount box. Alternatively, you can click on or slide the toggle to the percentage you'd like to receive, or just click on Min/Max.

It is important to ensure that the amount is enough to cover network fees. If the amount is not sufficient, you won't be able to proceed and you will receive the following error message:

You can see the fees for this transaction and the amount that you will receive in your external wallet by looking at the blue information box.

After carefully checking all information is correct, click Continue. This will then bring you to a summary of your transaction where again you can check the fees and the amount you will be receiving, and Confirm that this is correct.
If you have 2 Factor Authentication (2FA) enabled for withdrawals, you will need to enter your 2FA code to confirm the transaction. We suggest enabling 2-Factor Authentication to protect your account.
Once confirmed, your withdrawal request will be successful. All that's left to do now is wait for your funds to arrive with you!

Confirm Your Withdrawal Destination (For First-Time Withdrawals)
The first time a withdrawal is made to a wallet address, you will receive a pop-up message and also an email where you will need to confirm the transaction. Please head to your email account and click the button in the email with the subject "Please Confirm Your New Withdrawal Destination", then login to the platform to verify the destination. You will only need to do this once per wallet address.

Once confirmed, your withdrawal will then process as usual.
Save Your Wallet Address (optional)
With the withdrawal destination confirmed, you can also save and name each wallet address so that you don't have to input the address manually for future withdrawals to the same destination.
You can view your saved wallets by clicking My Wallets on the withdrawal form.

The next time you wish to make a withdrawal to a saved wallet address, you can select the currency and fill in the destination details with just the click of a mouse!
FAQ

How long does it take?

Withdrawals can at most take up to 24 hours to be processed, but generally, a withdrawal will be approved and sent out within minutes. Coinmetro has some of the quickest withdrawal times in the industry! See All Withdrawal Times

What are the fees?

Cryptocurrency withdrawal fees are 0.15% + Network Fees; however, KDA withdrawals are free! See All Transaction Fees

Can I cancel a pending withdrawal?

Yes, you can cancel a pending withdrawal from your Coinmetro Dashboard, then scroll down to your Transaction History. Then, find your pending withdrawal and click on the Cancel button.

Please note that it is not possible to cancel a withdrawal once it has already been approved and sent.