SMS Verification ties your Coinmetro account to your mobile phone number.
All new Coinmetro users are now required to complete SMS Verification before completing Profile Verification. This is so that we can maximize the security of your account and ensure that it's you.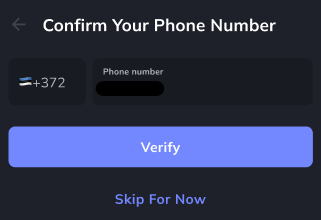 SMS Verification works by sending a text message to your mobile phone with a 6-digit code and then entering it into the dialogue box. You can also paste the code from your clipboard to get verify your phone number within seconds.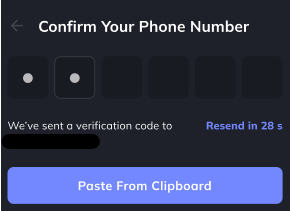 Once the correct code has been entered, your SMS Verification will be completed and your phone number will be verified!
By pressing 'Skip For Now', you may temporarily skip SMS Verification; however, you will be required to complete this before submitting your documents for Profile Verification.
Why am I not receiving the SMS Verification text message?
Here are some tips to ensure that you receive the SMS Verification text from us without any issues:
Don't copy and paste your phone number. Ensure that your mobile number has been entered manually to avoid any whitespaces.
Ensure that you double-check that the correct number has been entered correctly before pressing 'Verify'.
Check that you have sufficient signal on your mobile network.
Try pressing 'Resend'. After 30 seconds, you will be able to send the text message to your phone again by pressing the resend button.
Wait a little longer. Sometimes, text messages may take a little longer than usual to come through, especially if your phone has a weak signal. Allowing a little while longer for the text to arrive may be necessary in some cases.
Important - please ensure that you sign up with your own phone number when creating an account as it is against the Coinmetro Terms of Use to sign up with another user's phone number.