Should you ever come across a bug or a technical issue on the Coinmetro website or mobile app, reporting the issue to us immediately will help us to identify and work on fixing the issue without any delays or further complications.
Please note that there are multiple ways that you can make us aware of a technical anomaly.
Bug Bounty Typeform
By far the quickest way that you can make us aware of a bug or technical issue is via our Bug Bounty program. We recently released a new Typeform that allows users to quickly send reports directly to our Product team.
You can submit your detailed technical issue/bug report here: https://coinmetros.typeform.com/bug-feedback.
If the technical issue or bug is found to be legitimate, you can earn up to 100 XCM per report! We see each ticket in real-time and process rewards once a week.
Live Chat
If you are logged out of your account, simply click on the purple chat bubble in the bottom right-hand corner, or if you are logged into your account, click on the menu icon (the colored circle with your initials) in the top right-hand corner, then click on Support. Then, click on 'Send us a message' to initiate a chat with one of our live customer support agents.
The bug can be reported quickly and without delay by clicking on Technical Issue/Bug.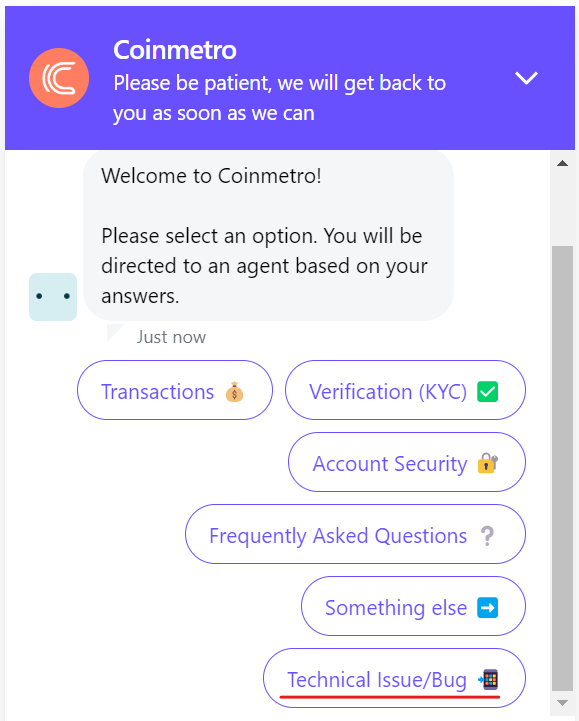 So that we can have our team investigate the issue promptly and without delays, you will need to provide us with the following details related to the issue:
A detailed description of the issue

The device you are using

The browser or Coinmetro app you are using

Steps to reproduce the issue.
Send us an Email
Alternatively, you can report the issue to us via email at hello@coinmetro.com. Please put the subject of the email as 'Bug/Technical Issue with XXX' so we can pick this up as quickly as possible. Please ensure that you provide us with all of the required information (listed above) so that the team can identify the issue without delay.
Post it on Discord
If you have a verified Coinmetro account and you are part of the Coinmetro Community Discord, you can report technical issues under the channel report-bugs. A member of the team will then pick this up and report it to the team immediately.

Important note: so that we can pass accurate and helpful information over to our technical team, and so that they can reproduce and identify the issue without delays, please ensure that you provide us with a detailed report which includes all of the details listed above.