For verification purposes, using your device's camera is a necessary part of the process. The use of your camera is essential for taking your selfie and photos of your identification documents for profile verification. Depending on many variables like lighting, OS, and your phone's features, it may be the case that you may experience some issues with your camera.
Here are some steps that may help you to complete your profile verification on your phone:
Check your security settings, you may need to manually give the web browser/app permission to access the camera

If you experience issues using the Coinmetro app, use either Chrome, Firefox or Safari browser or vice versa

Check that your device and app/browser are updated to the latest versions.
Once accessing the Verification Status page, select the appropriate camera from the toggle menu (i.e., front-facing vs rear-facing camera).
Google Chrome Browser
When you are on the Chrome browser, please click on the little lock icon on the top left (where the arrow points in the picture) and check if it says "Allow". This needs to say allow for the camera to open. Please change it to allow in case it is not set to that.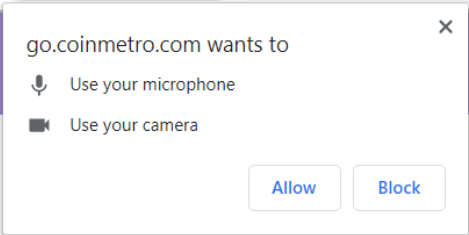 If the above steps still fail, we would advise you to try using another browser and another device. You may need to borrow a friend or family member's phone that is capable of the procedure for this. As soon as you are able to upload your profile information, we will check your information to see if it is accurate.