Transaction history statements can be useful when it comes to purposes such as taxes or source of wealth documents. We've made it easy for you to export your transaction history in just a few clicks!
How to Download Transaction History
From your Coinmetro Wallet, click on 'Transactions'. Here, you will be able to select assets, define a date range, and select different types of transactions.

You can download your balance history by scrolling down to the bottom of the page and clicking on 'Download' and then selecting one of the format options as shown below.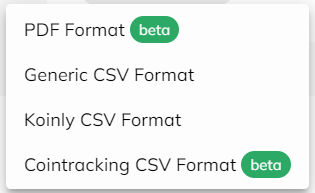 Staking Rewards and Rebates
If you have joined a Staking program or have earned any XCM Rebates, these can also be found next to your active staking plans by clicking on 'Download CSV'.

Available Formats
Coinmetro currently offers four different options to export your transaction history:
PDF Format (Beta)

Generic CSV Format

Koinly CSV Format

Cointracking CSV Format (Beta)