Firstly, you'll need to head over to your Coinmetro Dashboard. Then, click on either "Deposit" or "Add Cash" depending on which version of Coinmetro you are using:
| | |
| --- | --- |
| On Desktop or Browser | On the Mobile App |
Then, from the dropdown menu, select "GBP - Pound Sterling (UK Faster Payments)".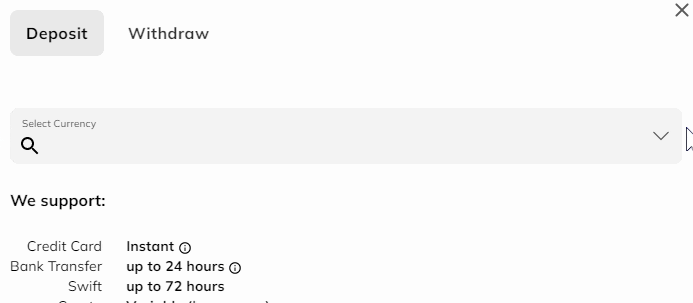 Be sure sure to add your sort code and account number that you will be sending your funds from as this will allow our Finance team to assign your deposit to your account without delays.

Once you've entered your bank details, click "Continue" and you will then see Coinmetro's banking details. Please note that our banking details have recently been updated, so please ensure that you double-check our account details before initiating your transaction. You will need to send your funds from your banking app/online banking account to these details, ensuring that you include your name in the reference/description field.
Ensure to use the bank details provided for Coinmetro as shown on the deposit screen of your account, double-checking each time you send funds. We are adding new banking partners and details may change from time to time.
FAQ

How long does it take?

GBP deposits are usually quite fast, although sometimes it can take up to one working day for the funds to reach us. We kindly ask you to please allow one full working day (not including weekends) for the funds to arrive in your Coinmetro account. Banking cut-off times, weekends and holidays can affect how long it takes for funds to reach us from your bank.

To ensure your GBP Faster Payments deposit arrives within the above-indicated time frame, please ensure that your sort code and account number have been added to the deposit form on your Coinmetro account, and please ensure the transaction reference includes your full name. This will allow our Finance team to assign your deposit to your account without delays.

Can I deposit from a third party?

No, we do not accept deposits from third parties. Any deposits made in a name other than your own will be returned at your expense.

What are the fees?

Coinmetro charges a flat fee of 1 GBP for a UK Faster Payment deposit; however, we advise you to confirm with your bank about any charges on their end.

Why have I been asked for additional information after depositing?

Our Financial Operations team review transactions once they arrive with us and occasionally, we may ask for additional verification information as we strive to remain compliant with banking regulations and standards.

What if my funds haven't arrived within the specified timeframe?

If your funds haven't arrived after one working day, please let us know by emailing us at hello@coinmetro.com and provide us with a proof of payment document that shows the following details:

Your sending account details and account name

The date of transfer, amount and currency

The bank details where funds were sent

The Faster Payments reference.

This information will allow us to double-check with our Finance team and banking partner.