The Coinmetro mobile app allows you to access the Coinmetro exchange directly from your mobile phone. You can buy, sell, and trade various cryptocurrencies such as Bitcoin, Ethereum, and others, as well as manage your account, track your portfolio performance, and more.
In addition, the app provides you with real-time market data, charts, and price alerts, allowing you to stay up-to-date with the latest market trends and make informed investment decisions on the go.
Overall, the Coinmetro mobile app provides a convenient and accessible way for you to manage your cryptocurrency investments from anywhere, at any time!
How to Download the Coinmetro Mobile App
You can easily download the Coinmetro mobile app by following these simple steps:
From your Coinmetro Dashboard, click on your profile in the top right-hand corner.
From the dropdown menu, scroll down and select 'Mobile App'.
Select the app version that you want to download. You can also scan the QR code on your phone to directly access the app on either the Apple Store or Google Play Store.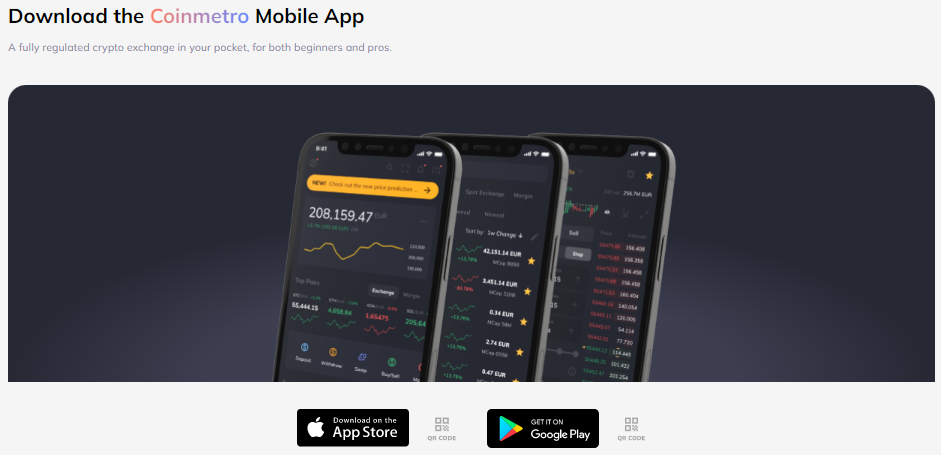 Alternatively, you can download the Coinmetro app directly from the following links:
Authorizing Your Device
When you log in to the Coinmetro mobile app for the first time, you may need to authorize your device to access your account. Here's how to do it:
On Desktop or Browser

On the Mobile App

Click on 'Activity'.

Scroll down to 'Device Security Management'.

Tap on the device you want to authorize.

Press 'Confirm'.

From the Home screen, tap on the purple profile icon with your initials in the top left-hand corner.

Tap on "Security".
Scroll down to "Device Authorization".
Tap on the device you want to authorize.
Press 'Confirm'.
To confirm that you want to link your account to that particular device, click on the yellow triangle, and press 'Confirm'. Once your device is authorized, you can access the Coinmetro platform from your mobile device on the go!