Firstly, you'll need to head over to your Coinmetro Dashboard. Then, click on either "Deposit" or "Add Cash" depending on which version of Coinmetro you are using:
| | |
| --- | --- |
| On Desktop or Browser | On the Mobile App |
Then, from the dropdown menu, select the AUD - Australian Dollar (SWIFT) option. You won't be asked to add your IBAN; however, you will see a Compulsory Reference in addition to Coinmetro's bank details.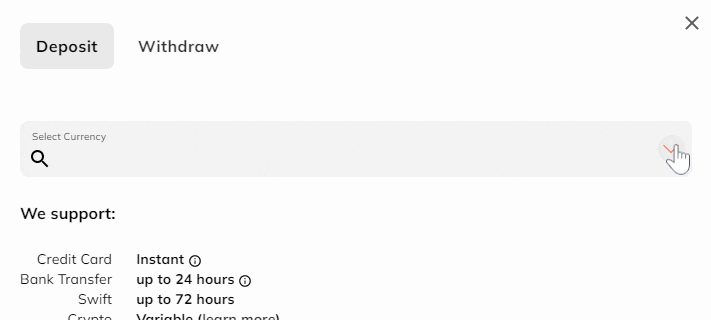 You will need to then send us your funds from your bank account with your full name and ensure you include your Compulsory Reference entered in the reference/description field when making the transfer. It is COMPULSORY to input your reference.

Ensure to use the bank details provided for Coinmetro as shown on the AUD SWIFT deposit form, double-checking each time you send funds. We are adding new banking partners and details may change from time to time.
FAQ

How long does it take?

For AUD SWIFT deposits, it can take up to 5 business days for your funds to arrive with us. We kindly ask you to please allow 5 full business days for the funds to arrive in your Coinmetro account. Banking cut-off times, weekends and holidays can affect how long it takes for funds to reach us from your bank. To ensure your AUD SWIFT deposit arrives within the specified time frame, please ensure that your compulsory reference has been included in your transaction. This will allow our Finance team to assign your deposit to your account faster.

What are the fees?

Coinmetro charges a flat rate free of 50 AUD for AUD SWIFT deposits. We also advise you to confirm any possible additional charges with your bank.

Why have I been asked for additional information after depositing?

Our Financial Operations team review transactions once they arrive with us and occasionally, we may ask for additional verification information as we strive to remain compliant with banking regulations and standards.

What if my funds haven't arrived within the specified timeframe?

If your funds haven't arrived after the above-indicated working days, please let us know by emailing us at hello@coinmetro.com and provide us with a proof of payment document that contains the following details:

Your sending account details and account name

The date of transfer, amount and currency

The bank details where funds were sent

The MT103 document (you may need to request this from your bank).

This information will allow us to double-check with our Financial Operations team and banking partner.