What is a crypto price chart?
A crypto price chart on the Coinmetro exchange is a visual representation of the historical price movements of a particular cryptocurrency. It displays the price of the cryptocurrency over a given time period, ranging from hours to years, and provides our traders and investors with important information to help them make informed decisions about buying or selling cryptocurrencies.
Our traders can use the crypto price chart to analyze the price movements of a cryptocurrency and determine potential entry and exit points for trading. They can also use the chart to identify support and resistance levels, which are key levels at which the price is likely to experience significant buying or selling pressure.
Overall, we believe that our price charts are a crucial tool for traders and investors looking to understand the price movements of a cryptocurrency and make informed trading decisions based on technical analysis.
Tips on Reading Price Charts
Reading cryptocurrency price charts is a fundamental skill for anyone interested in trading digital assets. Below is a set of tips that may be helpful on how to read crypto price charts on our Exchange or Margin platforms.
Set a timeframe
Select a timeframe for the chart whilst considering your preferred trading style and the type of analysis you wish to perform. The options include daily, 5-daily, monthly, 3-monthly, yearly, or 5-yearly timeframes.

Look at the axes
Our price charts have two axes; the vertical axis on the right shows the price of the cryptocurrency, while the horizontal axis at the bottom shows the timeframe of the chart.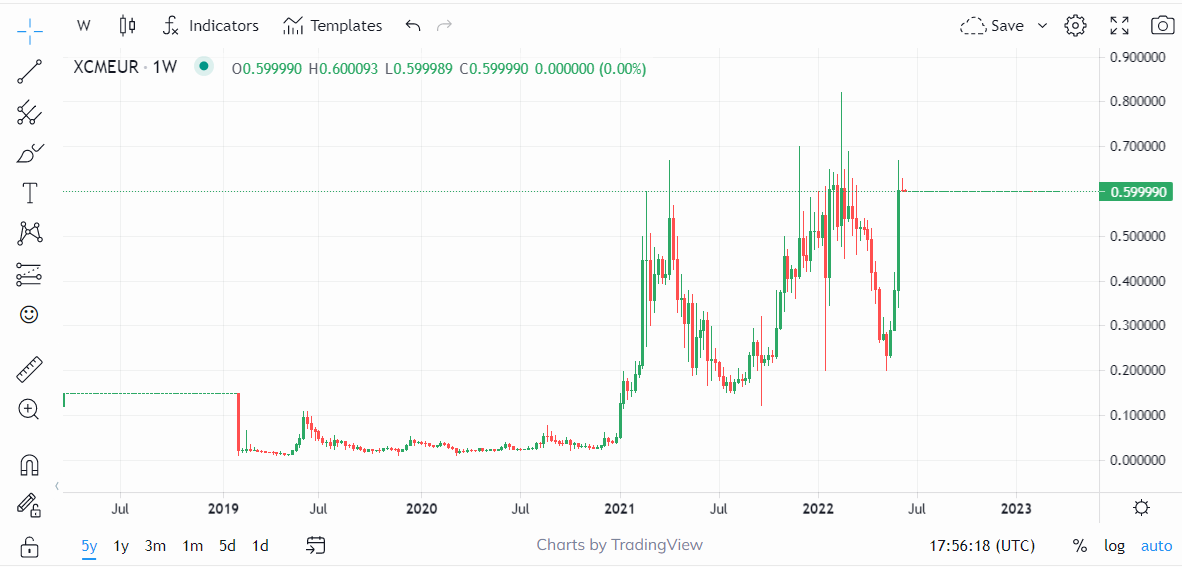 Analyze Candlesticks
Our price charts typically use candlesticks to display price movements. Each candlestick represents a specific timeframe, and the body of the candlestick represents the opening and closing prices, while the upper and lower wicks represent the highest and lowest prices reached during that timeframe.

Look for Trendlines
A trendline is a line that connects two or more points on a chart and can help you identify the direction of the trend. An upward trendline indicates a bullish trend, while a downward trendline indicates a bearish trend.

Use Indicators
Technical indicators such as moving averages, RSI, MACD, and Bollinger Bands can help you analyze price movements and identify trading opportunities.

Consider Volume
Volume is the amount of cryptocurrency that is traded during a specific timeframe. High trading volume can indicate market strength, while low trading volume can indicate weakness.

Consider our Twitter Sentiment tool
Finally, it may also be a good idea to consider any relevant news or events that could impact the price of the cryptocurrency you're analyzing. You can check this on our handy Twitter Sentiment tool located on your Dashboard!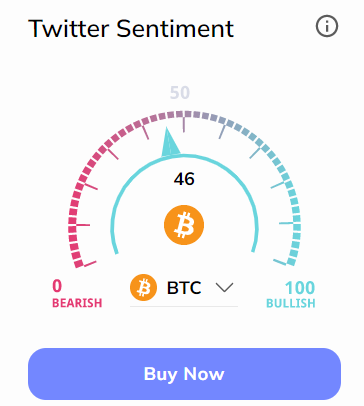 Summary
By considering the tips above, you can learn how to read and analyze cryptocurrency price charts effectively and use this information to make informed trading decisions.
Coinmetro's Demo Platform is always available if you would like to practice without risk. Please note that this article is not to be seen as trading or financial advice. It is intended for educational purposes only.